Some of our referral partners earn more than RM 2000.00 per campaign! It's a great opportunity to earn extra income without much hassle.
The best part? Almost instant referral commission payouts within a few days after a campaign closes
The even better part? You will receive high referral commissions not only one time like on many other platforms, but for each successful investment or fundraising transaction a referred user makes on Alixco for as long as they use the platform.

One time referral means recurring income for you. This allows your to build your own personal income stream straight from home, an attractive side income with each new user you refer.


Who can be referred?
You can earn referral commissions for both successfully referred investors and issuers. You can also see statistics in your user dashboard on how many people you have referred and how much you have earned.
Which investors can you refer?
Legal age and status to invest and passes Alixco's user verification
Understands the terms, benefits and risks of ECF and P2P investments
Has at least medium-high assets so part of it (risk capital) can be allocated to ECF and P2P investments


Which businesses in need of funds can you refer?
Malaysia-based
Funding need of RM 100,000 to RM 3 million+
Solid business performance supported by documents
The company only needs the funds to bridge a funding gap or pre-finance goods
Strong ability to repay the funding campaign
How is my commission calculated?

The referral commission is based on the hosting fee revenue for each individual campaign and for referred investors on the fractional pro-rated investment percentage in a particular campaign.

Let me give you an example:

If you refer a user who raises financing of RM 500,000 for their business ABC and another user who invests RM 250,000 in the same campaign ABC, and our hosting origination revenue for that campaign is e.g. RM 8,000, your referral commission will be RM 1600 (20%) for the referred issuer and RM 800 (20% pro-rated) for the referred investor. That's a total commission of RM 2400 for referred issuer and referred investor in one campaign.
How does the process look like?
The process is simple. Just use your personal unique referral link, which you can find under your Dashboard in the "Refer & Earn" section. Once you click on "Create My Referral Link", a uniquely created link "Invite Friends by this Link" will appear. Successful referrals from users who used this link during registration will be automatically credited to your internal balance.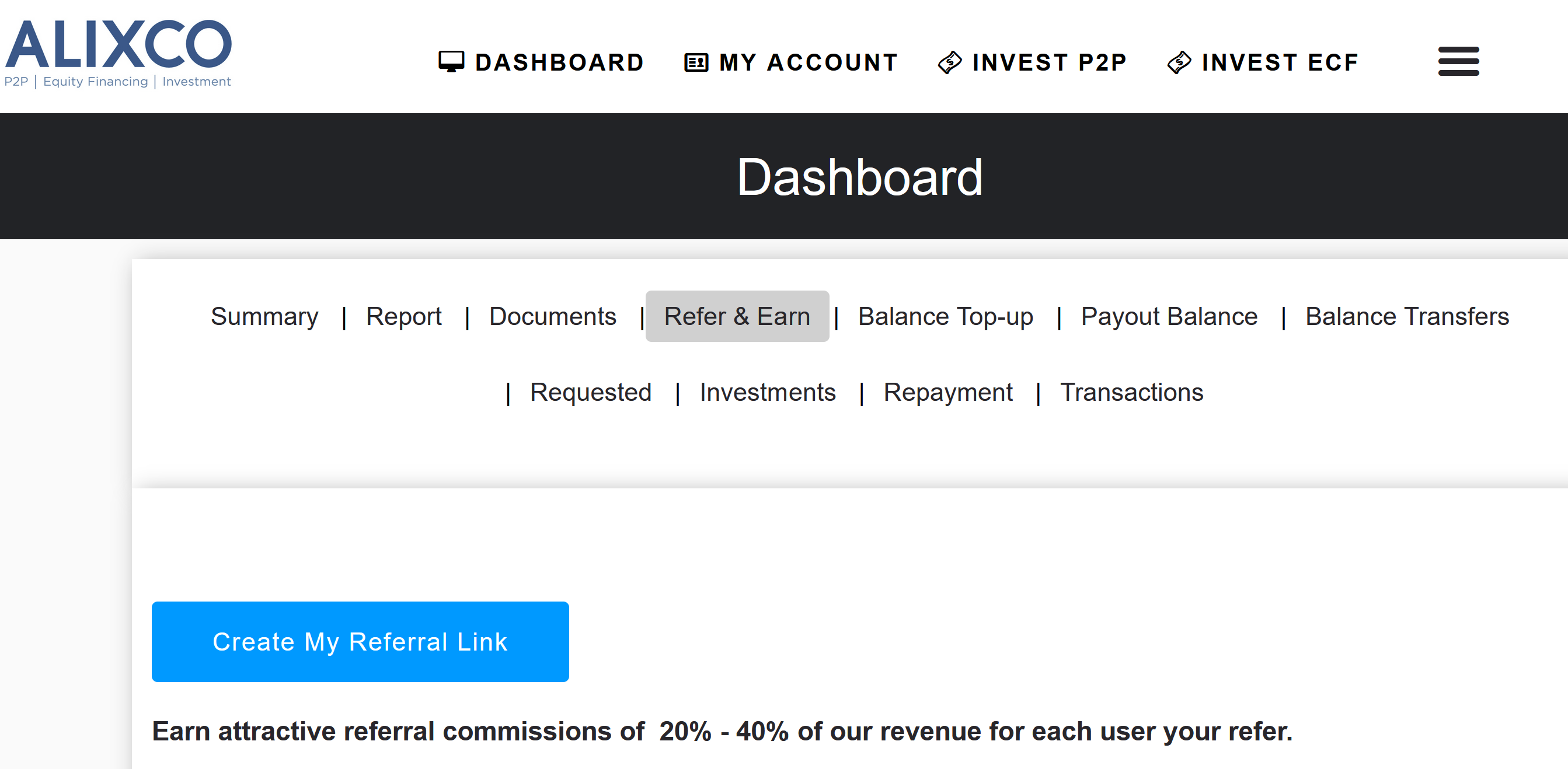 It's a win-win-win situation. When you make a referral, you win, your clients or friends win, and we win. Don't miss out on this incredible opportunity to earn extra income and add to your multiple streams of income. If there is one legitimate way to earn money online fast, this may be it. Join our referral program today!!

Best regards,
Your Alixco Team
T&C apply. The terms of the entire referral agreement apply. Only successfully referred and actually funded issuers entitle for a referral payout. The referral programme and referral commissions are subject to change without prior notice.