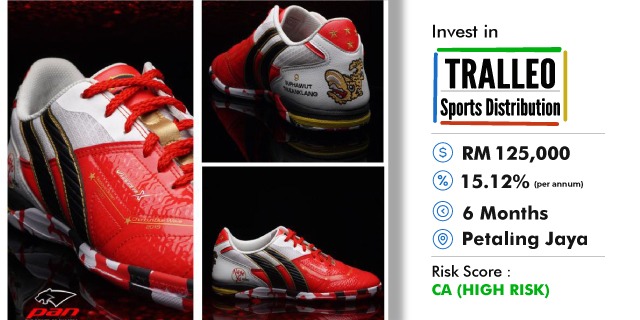 What the business is about?
Tralleo Sdn Bhd is a sports distribution company and the sole distributor of the brand PAN from Thailand which focuses on sporting goods such as futsal, football and running shoes and apparel. Tralleo Sdn Bhd has been in business for about 7 years, currently has two retil outlets and distributes to 40 stores across Malaysia.
This investment note is secured by personal guarantees of three directors, as required by ALIXCO P2P Financing.
For what will you use the funds?
Tralleo Sdn Bhd is raising funds for working capital to support their business growth.
'We required these funds for a few purposes, but the main purpose will be to fund the purchases of new Special edition Shoes. These shoes have done well for us over the years and continue to have demand from our customers even though we are going through Covid - 19.
The second purpose would be to open a new store outlet in BERJAYA TIMES SQUARE as an opportunity has come along for a space in this Shopping Mall, one of the most popular malls in Malaysia and the traffic has returned to this mall after the RMCO. Therefore it is an opportunity that we would like to explore.'
'As we are distributors, we will be bringing in new items for our customers to purchase as well as our Special Edition shoes which we design and make on our own' to sell in the Malaysian market (only).