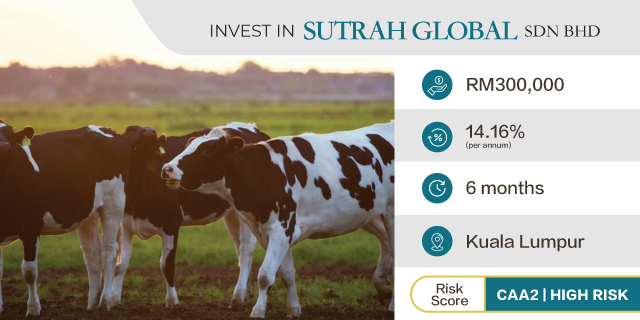 What the business is about?
"Sutrah Global Sdn. Bhd. (Sutrah Global) was incorporated on July 4th, 2019, with the purpose of continuing the existing businesses and operations carried out by its Managing Director, Ahmad Azahari Jamaludin. These activities were initially conducted under the banner of Meat2u Fresh & Frizzy PLT (Meat2U), which was established in November 2018. Meat2U has achieved notable success in the Malaysian Livestock Industry, making significant strides as one of the key players.
At present, Sutrah Global is centered around three primary business lines: the sales and distribution of cattle livestock and freshwater fish (both wholesale and retail), the supply of fresh and frozen meat, and the provision of food and meat products. In line with the company's objective of offering a Halal meat supply within the Halal Ecosystem, all operational aspects are meticulously aligned with the guidelines set forth by the relevant authorities.
Sutrah Global operates 2 main farms, along with 3 satellite farms, covering an expansive area of over 16.31 hectares. Our aspiration is to become a pioneering force in the Halal Meat Supply Chain, delivering a comprehensive end-to-end Halal Ecosystem.
Our primary farm is situated in Kuala Pilah, Negeri Sembilan. Additionally, we manage two satellite farms in Selangor (Gombak and Banting). Presently, SGSB is in the process of establishing an integrated farm spanning 40 acres of land in Negeri Sembilan. This integrated facility will encompass a feedlot, grazing fields, a livestock feed farm, an abattoir, and meat processing facilities. Concurrently, a facility is under development to produce compost fertilizer from animal solid waste, which will serve as a valuable resource for fertilizing our crops."
This is Sutrah Global Sdn Bhd's 1st investment note with Alixco.
This investment note is secured by 2 personal guarantees, as required by ALIXCO P2P Financing.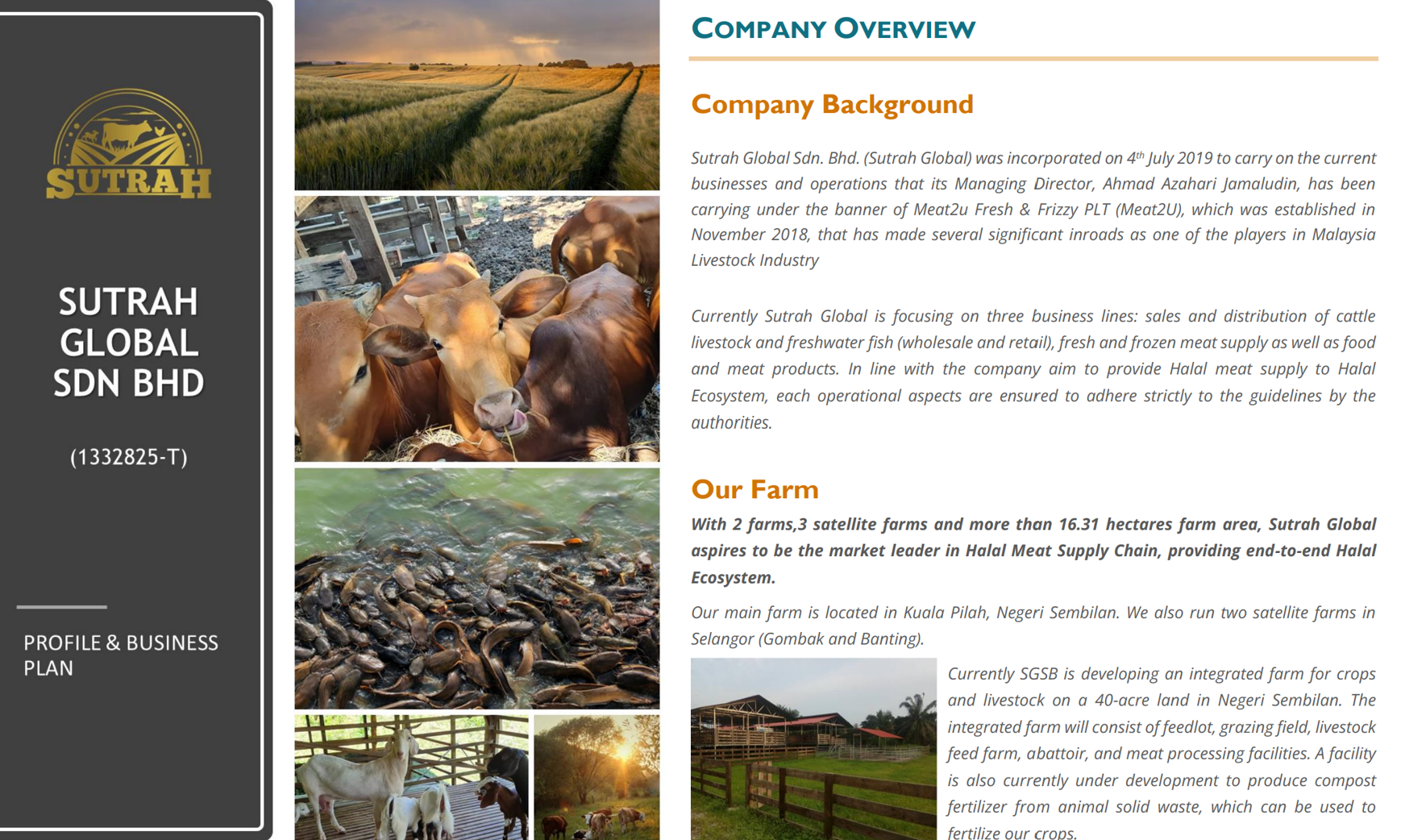 For what will you use the funds?
The funds will be used for working capital.
Business Overview
We are currently focusing on the captive wholesale market. We have successfully secured partnerships with prominent cooperatives as our clientele. Some of our valued customers include Koperasi Petronas, Koperasi TNB, Koperasi Amanah Ikhtiar Malaysia, Felcra Berhad's Vendor, mosques, community associations, companies, and individuals.
The reason behind their choice to engage with us primarily lies in our ability to offer tailored solutions for their specific issues. To us, challenges are nothing but opportunities. By assisting others in overcoming their problems, we effectively turn those predicaments into prospects for ourselves. Moreover, our emphasis isn't solely on profits; we aspire to function as a social enterprise. We are dedicated to integrating ESG principles into our business model and aspiring to contribute to the achievement of the UN's Sustainable Development Goals throughout our journey.
Funding amount
RM 300,000.00 for 6 months.
14.16 % interest (nominal, p.a.)
Business type
Sale of cattle livestock and freshwater fish
Location
Kuala Lumpur
Number of outlets
3
Number of directors
1
Personal guarantees
2
Year of incorporation
2019
Number of employees
6

Important Risk Information:
The risk score of CAA32 ('High risk') was determined by a blend of our internal risk-based pricing algorithm, an external risk score from a leading credit rating agency and a variety of qualitative factors. It is an approximation only and does not guarantee any specific outcome. Our risk score ranges from A('lower risk'), B('medium risk'), C('medium-high risk') to D('high risk').
Risk score of CAA2 ('High risk') indicates that this investment amount has an elevated-high level of risk. Please note that the volatility in the real estate marketing sector increases the riskiness of this investment note.
Sutrah Global Sdn Bhd's financials (unaudited / self-reported):
2021 Revenue = RM676,811 Profit before tax = RM45,989
2022 Revenue = RM637,422 Profit before tax = RM110,484

Alixco charges investors 1% on total repayments (for 6 months investment notes) only if and when repayment occurs.