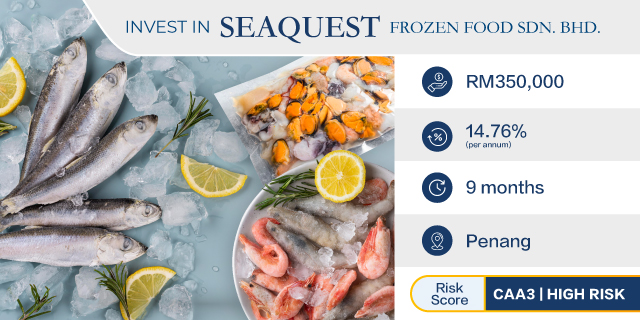 Investment Facts
Industry:
Food and Beverage
What the business is about?
Seaquest Frozen Food Sdn Bhd sells frozen seafood to other businesses within similar industries on a wholesales basis, including to school canteens,universities & MNC factories, wet markets & retail shops / markets.
"Seaquest is a full fledged specialist in frozen food catering services from A to Z, starting from cleaning & removing fish intestine, cutting, freezing & packaging. Seaquest specializes on its cutting skills, as the directors & staff have gone through a training programme at the company (similar to a Fish Academy). Therefore the quality of cutting is very precise & accurate; each cutlet will have a difference of at most difference of +-100 gram so that customers can estimate thier costs accurately."
This is Seaquest Frozen Food Sdn Bhd's 2nd P2P funding round with Alixco P2P.
This investment note is secured by two personal guarantees, as required by ALIXCO P2P Financing.
For what will you use the funds?
The funds will be used for working capital to purchase frozen seafood in bulk.
Business Overview
"One of the two directors, Mr Lim Hun Lih's father has worked in the industry for many many years before retirement. This had led Mr Lim Hun Lih & his cousin Mr Yew Eng Siang to start this business with the guidance & advice based on years of experience from Mr Lim's father. The businesswas established in 2018,. Initially, goods were bought & supplied to the market only. Later on, the business ventured into specializing on freezing seafood & to selling frozen goods which can longer while preserving freshness. Building on this, the business further expanded into value-add services such as cleaning & removing the fish intestine, then cutting & freezing the package.
The business started to grow tremendously when it expanded to a full fledged 1-stop frozen seafood specialist from A to Z. Upon receiving goods, all seafood especially fish will go through a process of removing the intestine to ensure the fish is clean and in a 'ready to cook' condition. Then the seafood is cut into portions according to the requests of our buyers before being packaged individually."
Funding amount
RM 350,000.00 for 9 months.
14,76 % interest (nominal, p.a.)
Business type
Sale of frozen seafood (B2B primarily)
Location
Pulau Pinang
Number of outlets
One
Number of directors
Two
Personal guarantees
Two
Year of incorporation
2018
Number of employees
10
Important COVID-19 Info:
The COVID-19 crisis and any potential MCO increase the riskiness of any P2P financing. Due to the severity and uncertainty of this situation, the risk of late payments and/or loss of capital for P2P financings increases. Companies might suffer from loss of business and revenue during this time, which will affect their profitability and repayment ability.
Important Risk Info:
The risk score of CAA3 ('High risk') was determined by a blend of our internal risk-based pricing algorithm, an external risk score from a leading credit rating agency and a variety of qualitative factors. It is an approximation only and does not guarantee any specific outcome. Our risk score ranges from A('lower risk'), B('medium risk'), C('medium-high risk') to D('high risk').
Risk score of CAA3 ('higher risk') indicates that this investment amount has an elevated-high level of risk.
In 2021, Seaquest Frozen Food Sdn Bhd has a revenue of approx. RM 6.1 million and a pre-tax profit of approx. RM 110,000.

Additional important risk information:
This is Seaquest Frozen Food Sdn Bhd's second P2P investment note with Alixco P2P. Seaquest Frozen Food Sdn Bhd still has one ongoing P2P investment note with Alixco P2P with ongoing repayments of approx. RM 150,000.
Investor Fees
Alixco charges 1.5% (for 9 months investment notes) for investors on repayments only if repayment occurs.
Projects
Seabass, Baramundi, Pomfret, Prawn, Squid, Jelly Fish, Seafood Shells, Mussles etc.
"Our customer base is pramarily based in Thailand, Northern Region-Penang, Kedah Perlis, Central Region-Perak, KL, Selangor, Negeri Sembilan, Pahang, Southern Region-Melaka, Johor & Singapore. Most of our customers requests focus on the cleaning of the intestine part & cutting according to sizes of their business needs into individual frozen packages. This has turned Seaquest into one of the top players in Malaysia as a full fledged 1-stop frozen seafood specialist. With Singapore beding a strict country for quality control, Seaquest's speciality is on the cleaning & removing intestine part as these will be disposing of (based on a recycling concept) the intestine of the fishes which will be sold to fish breeders."
Use of Funds