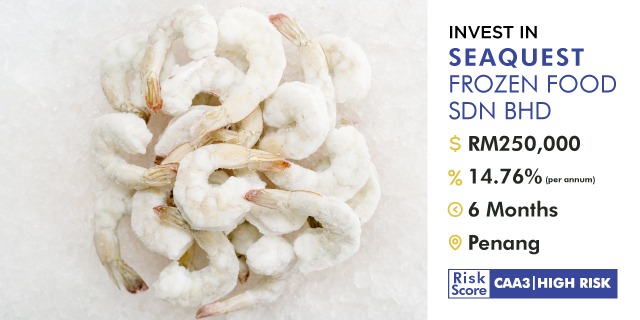 What the business is about?
Seaquest Frozen Food Sdn Bhd sells frozen seafood to other businesses within similar industries on a wholesales basis, including to school canteens,universities & MNC factories, wet markets & retail shops / markets.
"Seaquest is a full fledged specialist in frozen food catering services from A to Z, starting from cleaning & removing fish intestine, cutting, freezing & packaging. Seaquest specializes on its cutting skills, as the directors & staff have gone through a training programme at the company (similar to a Fish Academy). Therefore the quality of cutting is very precise & accurate; each cutlet will have a difference of at most difference of +-100 gram so that customers can estimate thier costs accurately."

This investment note is secured by two personal guarantees, as required by ALIXCO P2P Financing.

For what will you use the funds?
The funds will be used for working capital to purchase frozen seafood in bulk.
Investment Facts
Industry:
Food and Beverage