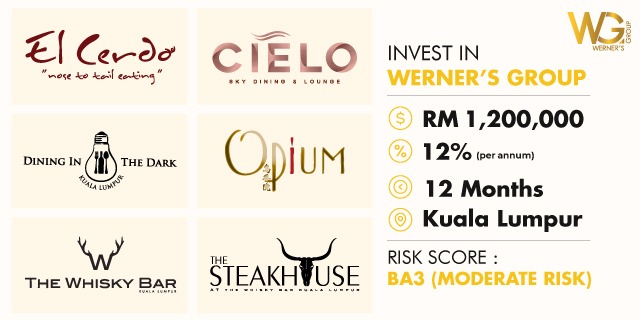 What the business is about?
Since its official inception as an organization on the 10th of April 2013, the Werner's Group (Rhine River Sdn Bhd) was formed to manage several of the most popular restaurants and bars in KL .
"Hi, I am Werner! With more than 40 years of experience in corporate large-scale commercial kitchen & catering operations, I decided to establish a gastronomy company in Kuala Lumpur City going from corporate back to my roots as a classically trained chef in 2005.

Since opening of Elcerdo KL in 2005, our Restaurant Group has been receiving numerous Awards in various Categories such as "Best Western Restaurant of the Year", Best Wine List of the Year, and many more accolades by Malaysian Publications such as Tatler Malaysia, Hospitality Asia Platinum Awards, Time Out KL and more. We are consistently ranked in the Top 10 out of 5000+ restaurants on Tripadvisor Kuala Lumpur.

In numbers, our accumulated Gross Revenue 2015-2020 was exceeding MYR 20 Mil anually with a Gross Profit Margin of 15% averagely.

15 years down the line and 6 successful specialty concept restaurant openings later, we are gearing towards the "New Normal" in the F&B Industry."

For more info on our Group please visit https://wernersgroup.com/

This investment note is secured by a personal guarantee, as required by ALIXCO P2P Financing.
For what will you use the funds?

1. Refurbishing requirements of the existing location to suit the DELI theme (50% of infrastructure already existing)
2. Setting up an E-Commerce presence featuring an ultra-convenient User Experience Interface when placing orders.
We are targeting to start operation of Werner's Deli in the 4th Quarter of 2020.
The "FUTURE":
We are in line with the NEW future in gastronomy, introducing WERNER'S DELICATESSEN - Dine In, Pick Up & Delivery.
Werner's Deli is the digital manifestation & logical consequence of our well-established Restaurant trade as we are keenly aware of the opportunities to innovate.

The Deli will be an amalgamation of selective products used in our existing restaurants, featuring in addition a range of Groceries, Delicatessen and Ready-Made Meals easily finished at home.
Our aim has always been to be one step ahead in terms of culinary excellence and the market agreed with us.
Everything in our restaurants is made from scratch, including fresh bread, all stocks and sauces, ice creams and sorbets. The Deli will be no different, bringing our Restaurant Product Range into the homes of our City Neighbourhood.

Having secured a location right in the City Centre of Kuala Lumpur, we will leverage the production kitchen of our existing venues to create the (probably) best take-home/ delivery meals and an intriguing grocery assortment that will allow you to "Eat well every day".
Risks and challenges
Attempting to Open a new Food & Beverage Outlet in this time of uncertainty seems ambitious, however, the largely populated local & expat neighbourhood in our 10km radius echoes a different sentiment.
Being in touch with the community spirit and neighbourhood feel that Kuala Lumpur has, as well as the rise in demand for new (digitalised) era F&B products in the area, we know Werner's Delicatessen will deliver to the new demand in the market.
We are in the lucky position to have an amazingly talented team ready to go & a site on hand with incredibly supportive landlords. We forecast additional MYR 3 Mil of Revenue to the Group.

Important info:
Please note that the COVID-19 crisis increases the riskiness of P2P financing and increases the risk of late payments and loss of capital. In particular, a prolonged extension of the MCO would negatively affect restaurant businesses.

Investment Facts
Industry:
Food and Beverage