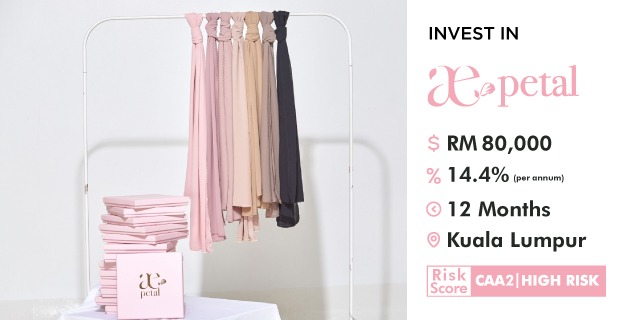 What is the business about?
PETALS ENTERPRISE is an online fashion retailer. 'We offer premium clothing at an affordable price with a luxurious feel. From a selection of scarves, 'kurung', abaya, casual wear and more. Founded in 2019, Petals Enterprise capitalised on the global shift in retailing to online during the pandemic and has successfully gained a strong following in the market. We provide a wide variety of fashionable yet modest wear that keeps up with the latest trends.'
This is Petals Enterprise's first investment note with Alixco P2P.
This investment note is secured by two personal guarantees, as required by Alixco P2P Financing.

Use of funds
PETALS ENTERPRISE is gearing up to meet the high demand during the upcoming festive season (Lebaran Collection) by expanding its inventory and enhancing its sales offerings. In order to cater to the growing needs of its customers, the company is focused on increasing its product range and availability. This strategic move aims to ensure that PETALS ENTERPRISE is well-prepared to meet the anticipated surge in demand during this festive season.

Business Overview
In December 2019, PETALS ENTERPRISE capitalized on the global shift towards online retailing by establishing a presence on multiple platforms such as their website, Instagram, and Shopee. They continued this trend by expanding to TikTok shop & Live in December 2021. Catering to a target audience of 18 years old and above, PETALS ENTERPRISE markets its premium clothing globally and has successfully attracted audiences not only in Malaysia but also in Singapore, Brunei, Thailand, and Indonesia. The brand offers an exquisite selection of scarves, kurung, casual wear, and more at affordable prices, making it an excellent option for those seeking luxurious apparel without breaking the bank.
Funding amount
RM 80,000.00 for 12 months.
14,4 % interest (nominal, p.a.)
Business type
Premium Muslimah Clothing
Location
UNIT A-07-12 PLAZA INDAH TAMAN SEPAKAT INDAH, 43000, KAJANG, SELANGOR.
Number of outlets
One
Number of directors
One
Personal guarantees
Two
Year of incorporation
2020
Number of employees
Two
The risk score of CAA2 ('High risk') was determined by a blend of our internal risk-based pricing algorithm, an external risk score from a leading credit rating agency and a variety of qualitative factors. It is an approximation only and does not guarantee any specific outcome. Our risk score ranges from A('lower risk'), B('medium risk'), C('medium-high risk') to D('high risk').
Risk score of CAA2 ('higher risk') indicates that this investment amount has an elevated-high level of risk. PETALS ENTERPRISE made a revenue of approx. RM 171,000 and a profit of approx. RM 27,000 in 2021. Please note that the small-scale nature of the business increases the riskiness of this investment note.

Alixco charges 2% to investors on repayments (for 12 months investment notes) only if and when repayments occur.