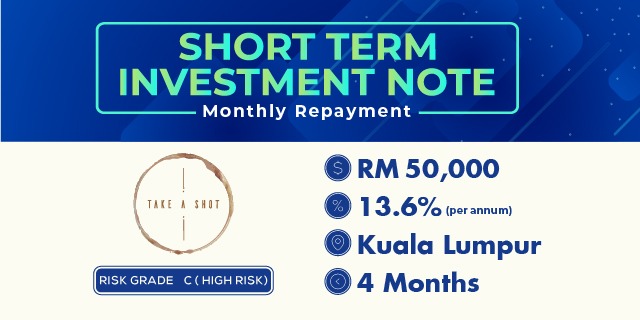 What the business is about?
Parrot Creative Studio Sdn Bhd owns and fully manages *Take a Shot* Studio Cafe and is one of the Klang Valley's largest film studios based in Seri Kembangan. It was created to cater to the specific needs of every aspect of the video production cycle and to bring the utmost value to the production process. From the production crew, down to sound and lighting technician, to the actual director and producer involved in the scene.
With the main goal of bringing the creative industry to greater heights, Take a Shot sets its mission to raise awareness about the intricacies of performing arts and film production to the public. The Studio comes with a cafe that serves healthy and wholesome meals.
This investment note is secured by personal guarantees of three directors, as required by ALIXCO P2P Financing.
For what will you use the funds?
We need the fund as our working capital and for our refurbishment and maintenance cost because we intend to rebrand our cafe after operating for 3.5 years.

Investment Facts
Industry:
Art Entertainment Recreation