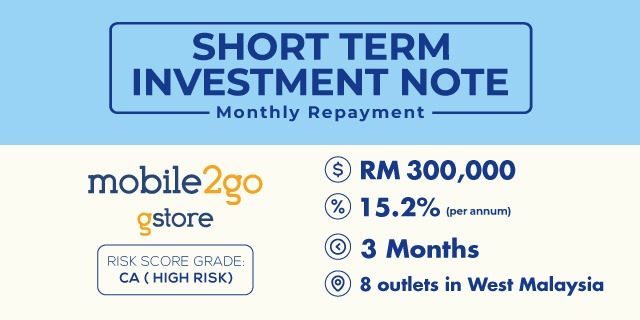 What the business is about?
Mobile2Go Sdn. Bhd. sells a full range of smartphones & tablets, primarily over its online distribution channels. The company was named a 'Number 1 seller on Lazada' for the years 2017 & 2018. Mobile2Go Sdn. Bhd. expanded to 8 outlets within 2 years.
This is Mobile2Go Sdn. Bhd.'s 13th financing round with Alixco P2P Financing.

This investment note is secured by three personal guarantees, as required by ALIXCO P2P Financing.

For what will you use the funds?
We are starting on January 2020 sales with a few hot model launches. Huawei Y9S, Honor 8X Max & Honor 9X! - available for selected partners only.
The funds will be used for working capital and to order mobile phones (and related products e.g. tablets, accessories, smartwatches) in bulk for quantity discounts. The mobile phones will then be sold via our distribution channels.