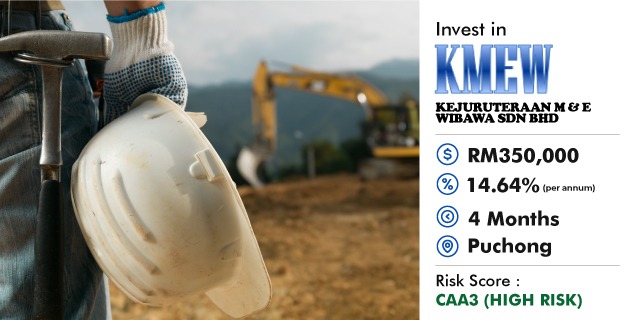 What the business is about?
KEJURUTERAAN M & E WIBAWA SDN. BHD is providing contracting and consultancy for mechanical & electrical building and infrastructural services . 'We supply, install, test and commission, service and maintenance mechanical and electrical services (M&E) in accordance with Malaysian standards. the M&E works include High & Low Tension Electrical, Extra-Low Voltage, Air Conditioning and mechanical ventilation, Fire protection and plumbing services.'

This is KEJURUTERAAN M & E WIBAWA SDN. BHD's 1st financing round with Alixco P2P Financing.

This investment note is secured by three personal guarantees, as required by ALIXCO P2P Financing
For what will you use the funds?
The funds will be used for working capital.
'We see potential jobs coming up.(i) Power supply upgrading work of a farm in Johor state, estimated sum= RM 50k (ii) design & construction of fire protection & Low Voltage electrical services works for new factory & farm in Taiping, Perak State, estimated sum = RM 1.2 mil'
'We see potential jobs coming up.(i) Electrical and extra low voltage contract of a business in Pahang state, estimated sum= RM 1.85 mil (ii) M&E contract of Electrical, Lift and Air Conditioning, Fire Protection & Extra Low Voltage services from all sectors mentioned above, estimated sum = RM 3.0-8.0 mil.
Currently we have on-going jobs with a major government agency with balance of works worth about RM 4.0 mil.'