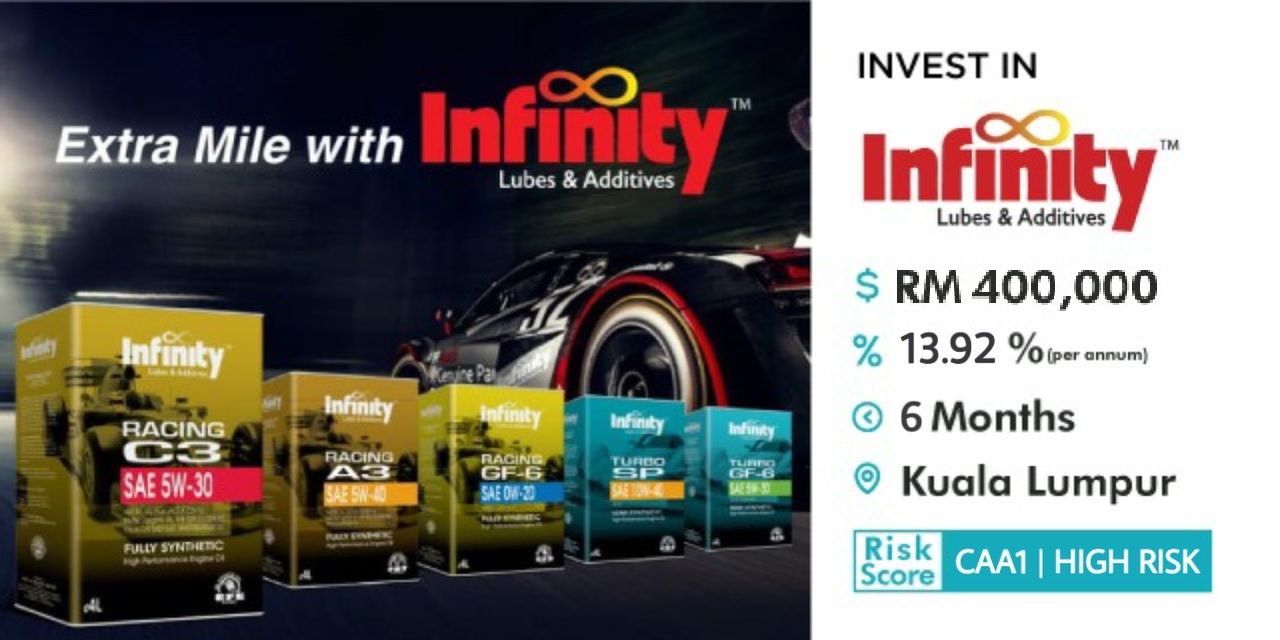 Investment Facts
Industry:
Wholesale/Trade
What the business is about?
Infinity Biden Sdn Bhd is a wholesaler of industrial chemicals and lubricants. "Infinity Lubes & Additives is a manufacturer of performance. We collaborate closely with leading automotive and motorsports industry. Infinity Lubes & Additives develop and formulate lubricants with additives specifically designed to extend life of high performance race engines to daily driven luxury applications. By adopting the latest technology advancements in the synthetic chemicals, Infinity Lubes & Additives sought to develop performance products derived from the highest quality ingredients based on market requirements. Over the years, Infinity Lubes & Additives has developed entire synthetic program working closely with on and off road to prove that Infinity's products meets every demand under extreme driving and operational conditions."
This is Infinity Biden Sdn Bhd's 10th P2P investment note with Alixco.

This round is secured by two personal guarantees, as required by Alixco.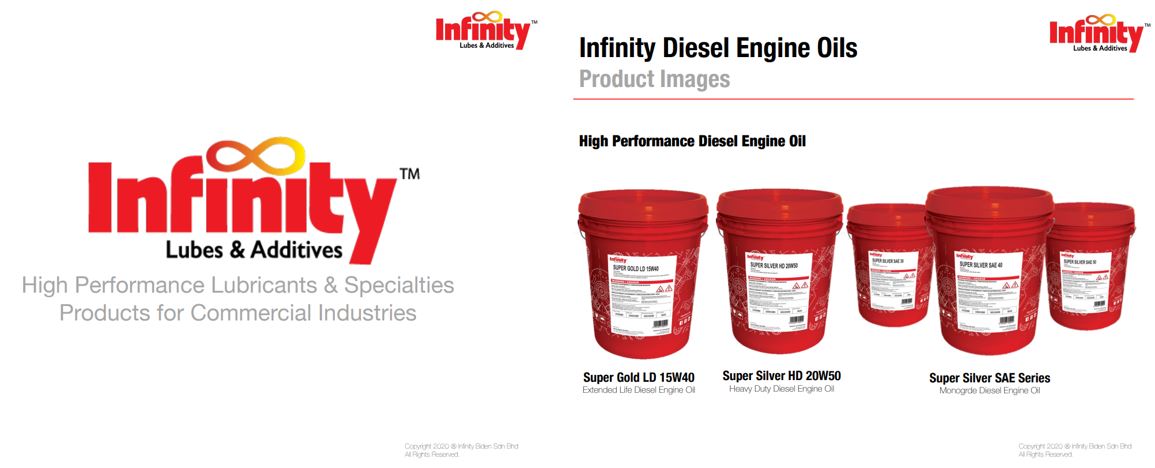 For what will you use the funds?
The funds will be used for working capital. The funds are planned to be used for the purchase of additional stock. Infinity Biden Sdn Bhd is confident that demand for its lubricants will remain high since they are needed for vehicles and machinery.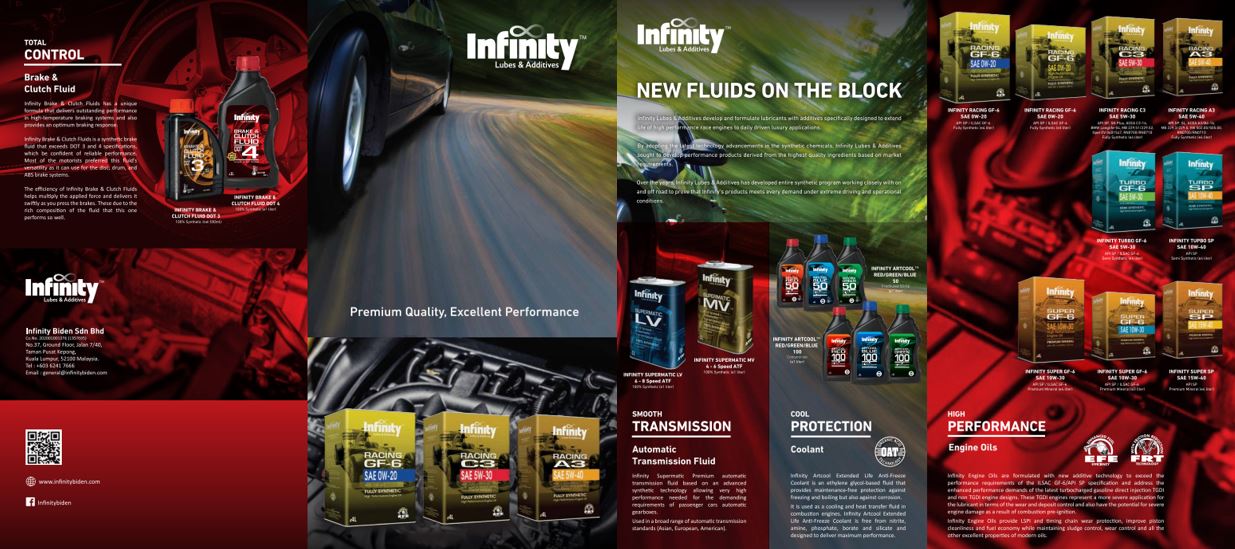 Business Overview
"Infinity Biden Sdn Bhd was incorporated in the year 2020. The owner/manager has been Mr Joe Choong and there has not any other Directors or shareholder until in year 2021 April when Mr Clifton Tang joined as director and shareholder.

Mr Joe Choong is 45 and has worked in the lubricants and additives industry for approximately 25 years, 5 of these being with other companies before Infinity Biden Sdn Bhd commenced trading. He is responsible for all management and operating decisions. He has worked for approximately 15 years in this trade and is well known nationally as an expert in his field.

Mr Clifton Tang is 41 and has worked in financial lines for almost 10 years and he is in automotive fields for past 10 years and also taking care of administration and accounts for Infinity Biden.

The company operates from rented offices in Puncak Alam, Selangor . There are currently 17 other members of employed staff, however this is expected to increase by at least another 5 with the new order book. There are also two sub-contract staff who operate nationally depending on where the customer is. Both of these staff have been involved with the company since incorporated.

Target customers are all large fleet operators such as haulage companies, authorized car service centers and workshops."
Funding amount
RM 400,000.00 for 6 months.
13.92% interest (nominal, p.a.)

Business type
Wholesale of industrial chemicals and lubricants

Location
Kuala Lumpur, Puncak Alam

Number of outlets
One

Number of directors
Two

Personal guarantees
Two

Year of incorporation
January 2020

Number of employees
17


Important COVID-19 info:

The COVID-19 crisis and any potential MCO increase the riskiness of any P2P financing i.e. the risk of late payments and/or loss of capital for P2P financings increases. Companies might suffer from loss of business and revenue during this time, which will affect their profitability and repayment ability.


Important risk info:

The risk score of CAA1 ('High risk') was determined by a blend of our internal risk-based pricing algorithm, an external risk score from a leading credit rating agency and a variety of qualitative factors. It is an approximation only and does not guarantee any specific outcome. Our risk score ranges from A('lower risk'), B('medium risk'), C('medium-high risk') to D('high risk').
Risk score of CAA1 ('High risk') indicates that this investment amount has an elevated-high level of risk.

Infinity Biden Sdn Bhd's current yearly revenue (2021) is approximately RM 5.800,000 with a profit before tax of approximately RM 300,000.
Additional risk disclaimer about Infinity Biden Sdn Bhd:
This is Infinity Biden Sdn Bhd's 10 financing round with Alixco P2P. Infinity Biden Sdn Bhd has previously raised 9 financing rounds (out of which 4 are fully repaid) with Alixco P2P with outstanding repayments of approximately RM 1,200,000.


Investor Fees:
Alixco charges 1 % for investors on total repayments (for 6 months investment notes) only if and when repayment occurs.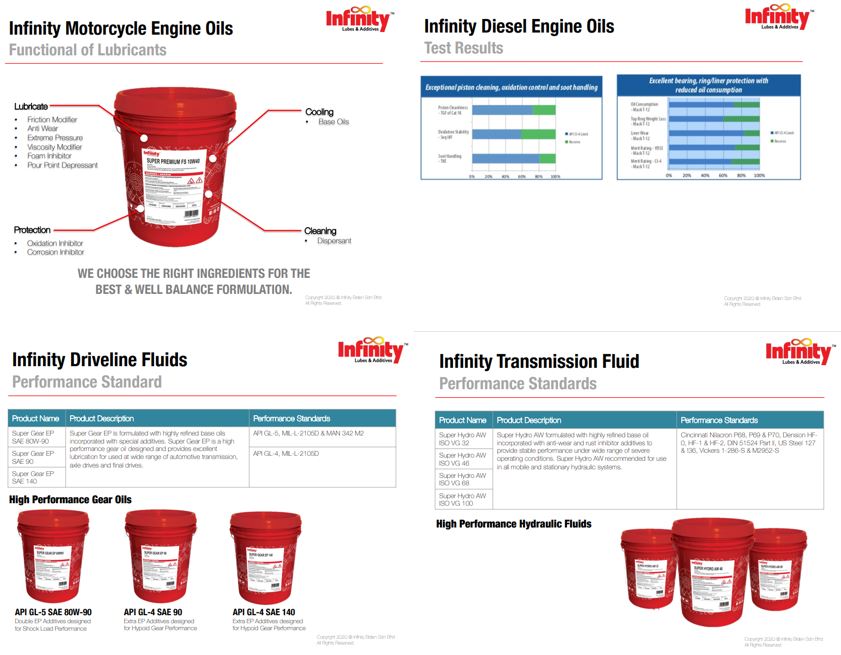 Projects
Use of Funds