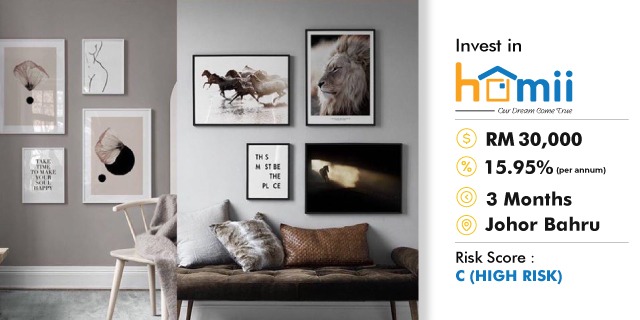 What the business is about?
HOMII Management Sdn. Bhd. is a property management company providing property management solutions to owners, investors & developers.
HOMII Management Sdn. Bhd. is a Rent2Rent (Co-living) business which rents units from owners / developers and sub rents rooms to tenants who live in Johor Bahru (usually working adults in Singapore).
The company provides renovation services to owners and manages their real estate. As of 2020, HOMII has a portfolio of more than 360 rooms in Johor Bahru and achieved monthly turnover of RM210,000.00.
HOMII has had one previous P2P financing with Alixco under the company HOMII Property Sdn. Bhd. which has been fully repaid.
This investment note is secured by personal guarantees of two directors, as required by ALIXCO P2P Financing.

For what will you use the funds?
We need working capital for a Purchase order (PO) from developer UEM Land Berhad worth RM83,475.00 to convert their units into co-living units to boost rental and manage by us (HOMII).
Important info:
Please note that refinancing notes have a higher risk, since they will be used primarily to pay off old debt/p2p financings in order to stretch repayments over a longer tenure. Please note that the COVID-19 crisis increases the riskiness of P2P financing and increases the risk of late payments and loss of capital.