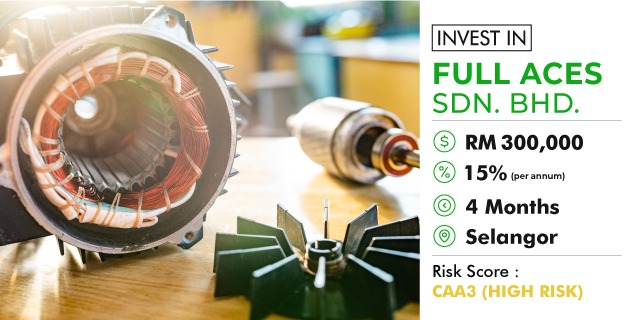 What the business is about?
Full Aces Sdn Bhd is a selling, distributing, servicing, repairing and maintaining automotive parts and related materials. The business had a turnover of approximately RM 25 million in 2020 with a pre-tax profit of approximately RM 700,000.
'In the past decade, the company was able to secure valuable returning customers, due to our ability to provide a wide range of genuine and high quality automotive spare parts with competitive pricing in Malaysia. We are the purveyor of high-quality products such as Shock Absorbers, Disc Rotors, Brake Pads, Coil Springs, Hydraulic Clutches and Engine Oils, which are also our core products. '

This is Full Aces Sdn. Bhd.'s 5th financing round with Alixco P2P Financing.

This investment note is secured by two personal guarantees, as required by ALIXCO P2P Financing.

For what will you use the funds?
'Our aim for this funding is to fund our purchases so that we can buy in cash term and request for rebates from our suppliers, this will allow us to have a more competitive pricing as compared with our competitors. We can make repayments as soon as our customers pay us back within their credit terms. Even during the MCO period we maintain our customer collection within 90days. '

Investment Facts
Industry:
Wholesale/Trade