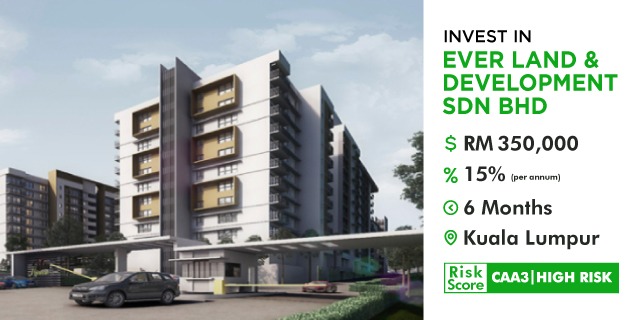 What the business is about?
Ever Land & Development Sdn Bhd s incorporated in 2001 is mainly involved in the infrastructure works and property development business. 'We are and experienced developer in town having completed some of projects for instance Hijauan Heights, Puncak Hijauan in Bangi.
We have 2,000 units of new development coming soon in Klang Valley and our focus market thus far is the Malay market with our existing sales considerably 100% to Malay prospect. One of our notable upcoming projects will be in Sg Penchala, prime locations in PJ (a stone throw away from One Utama) carrying 1,000 units of condominium.'
This is Ever Land & Development Sdn Bhd's 3rd financing round with Alixco P2P Financing.
This investment note is secured by two personal guarantees, as required by ALIXCO P2P Financing.
For what will you use the funds?
The funds will be used for working capital. The funds will be used in particular to contribute towards financing the pre-approval period of Ever Land & Development Sdn Bhd's major next development project. This period is marked by several months of capital expenditures for costs such as staff, marketing, legal fees / approvals etc.