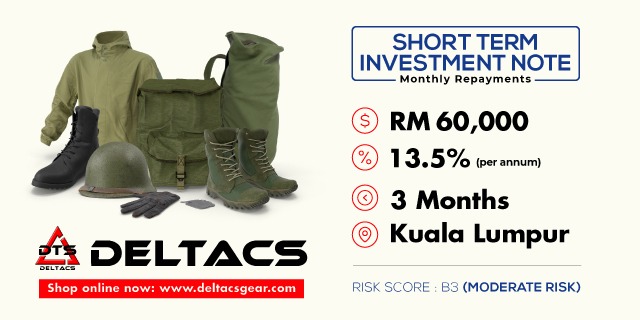 What the business is about?
Deltacsgear is one of Malaysia's top tactical and outdoor gear stores. We supply outstanding head-to-toe tactical gear for every operation and outdoor activity, bringing the latest top quality tactical and outdoor products to Malaysia. Deltacs was founded and established in 2013. Since then, the company has been growing everyday. We strive to be one of the top and best tactical gear and outdoor equipment suppliers in Malaysia.
This investment note is secured by two personal guarantees, as required by ALIXCO P2P Financing.

For what will you use the funds?
Our product sales quantity have been extremely increasing within a very short period. Some monthly product monthly selling quantity have increased 10 times compared to the time before we started focusing on our ecommerce business. We are now currently facing a demand oversupply situation. The purpose of seeking the fund is to use it for increase our product stock to fulfill our current overdemand.
You can shop now online at https://www.deltacsgear.com/ , Malaysia largest tactical gear online store, supplying outstanding head-to-toe tactical gear for every operation and mission.

Upcoming business planning
1. Expanding Ecommerce Business
As Malaysia's e-commerce industry is poised for strong growth in these few years and we are the tactical and outdoor equipment store with the most complete equipment in Malaysia, we are now focusing on expanding our ecommerce business to become Malaysia's top online tactical and outdoor gear store.
2. Rebranding
As our product selling quantity has significantly increased after we started focusing on our online business, we have met the MOQ to produce our own brand design product. So, our next step is to register a trademark and become Malaysia 1st tactical gear brand.
3. Wholesale
We are planning to increase our stock level and also produce our own brand product. The increased stock quantity will not only be used to fulfill our current ecommerce demand, but also to expand our wholesale business. There are at least one tactical gear outlet in each of Malaysia's military camps which are operated by the local military. We target to supply our product to each of the outlet in the military camps. Apart from that, we will also supply general merchandise such as military bags to local outdoor equipment outlets. We hope to bring our own brand product to the international market in the future.
With our current monthly net profit from our retail store, excluding from the ecommerce business, we are already able to commit to the repayment.
With the extra funding to expand our ecommerce business, it will definitely increase our profit.