Toby Spring
Toby Spring Sdn Bhd is a key distributor of Nestle products in Malaysia. Investment Note: two personal guarantees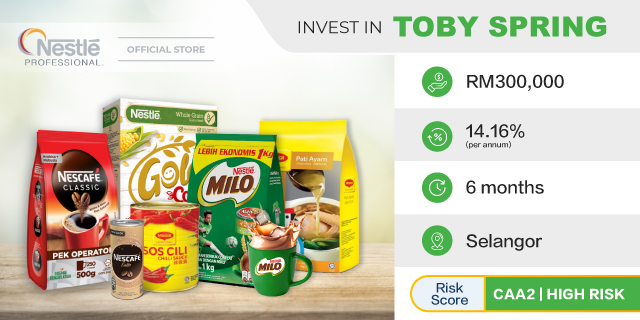 Industry:
Food and Beverage
Business Overview
Toby Spring Sdn Bhd is an authorised distributor of Nestle Products in Malaysia. 'Since inception, Nestle Malaysia has been very supportive in growing multiple eCom channels together with Toby Spring. Toby Spring recorded a RM 27 million Sales in Year 2022 and had won the Distributor Recognition Award from Nestle Malaysia.'
This is Toby Spring Sdn Bhd's 3rd P2P financing round with Alixco.
This investment note is secured by two personal guarantees, as required by ALIXCO P2P Financing.

For what will you use the funds?
The funds will be used for working capital to grow the business and increase trading limits.
Business Overview
Toby Spring Sdn Bhd is a key distributor of Nestle products in Malaysia. 'All online active shoppers are our target market. We guarantee genuine Nestle Products. Supported by Nestle's Malaysia team, we provide answers to any queries in relation to their products.'
Funding amount
RM 300,000.00 for 6 months.
14.16% % interest (nominal, p.a.)
Business type
Distribution of FMCG food products
Location
LOT 834-B4 & B5 JALAN KUSTA, KAWASAN INDUSTRIES KAMPUNG JAYA 47000 SUNGAI BULOH
SELANGOR
Number of outlets
One
Number of directors
One
Personal guarantees
Two
Year of incorporation
2019
Number of Employees
Four

Important Risk information:
The risk score of CAA2 ('High risk') was determined by a blend of our internal risk-based pricing algorithm, an external risk score from a leading credit rating agency and a variety of qualitative factors. It is an approximation only and does not guarantee any specific outcome. Our risk score ranges from A('lower risk'), B('medium risk'), C('medium-high risk') to D('high risk').
In 2021, Toby Spring Sdn Bhd had a revenue of approx. RM 13.9 million and a pre-tax profit of approx. RM 280,000.
Risk score of CAA2 ('higher risk') indicates that this investment amount has an elevated-high level of risk.
This is Toby Spring Sdn Bhd's 3rd financing round with Alixco. Toby Spring Sdn Bhd still has scheduled repayments for 2 other P2P investment note amounting to approx. RM 600,000.
Investor Fees
Alixco charges 1% for investors on total repayments (for 6 months investment notes) only if and when repayment occurs.