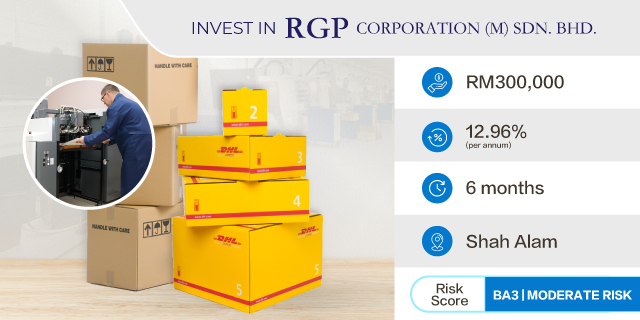 Investment Facts
Industry:
Wholesale/Trade
What is the business about?
RGP Corporation Sdn Bhd is a large-scale packaging manufacturer with clients such like Wal-Mart, DHL, Samsung, Wilson, and Brother and an annual turnover in excess of RM 100 million. RGP has a team of experienced professionals with a combined portfolio of over 40 years in the business world, using the latest technology in their printing plants to handle complex printing processes. RGP Corporation Sdn Bhd has offices in Malaysia and China to serve international clients with a local team.
This investment note is secured by two personal guarantees, as required by ALIXCO
This is RGP Corporation Sdn Bhd's 5th financing round with Alixco P2P Financing.
This investment note is secured by two personal guarantees, as required by ALIXCO P2P Financing.
For what will you use the funds?
The funds will be used for working capital.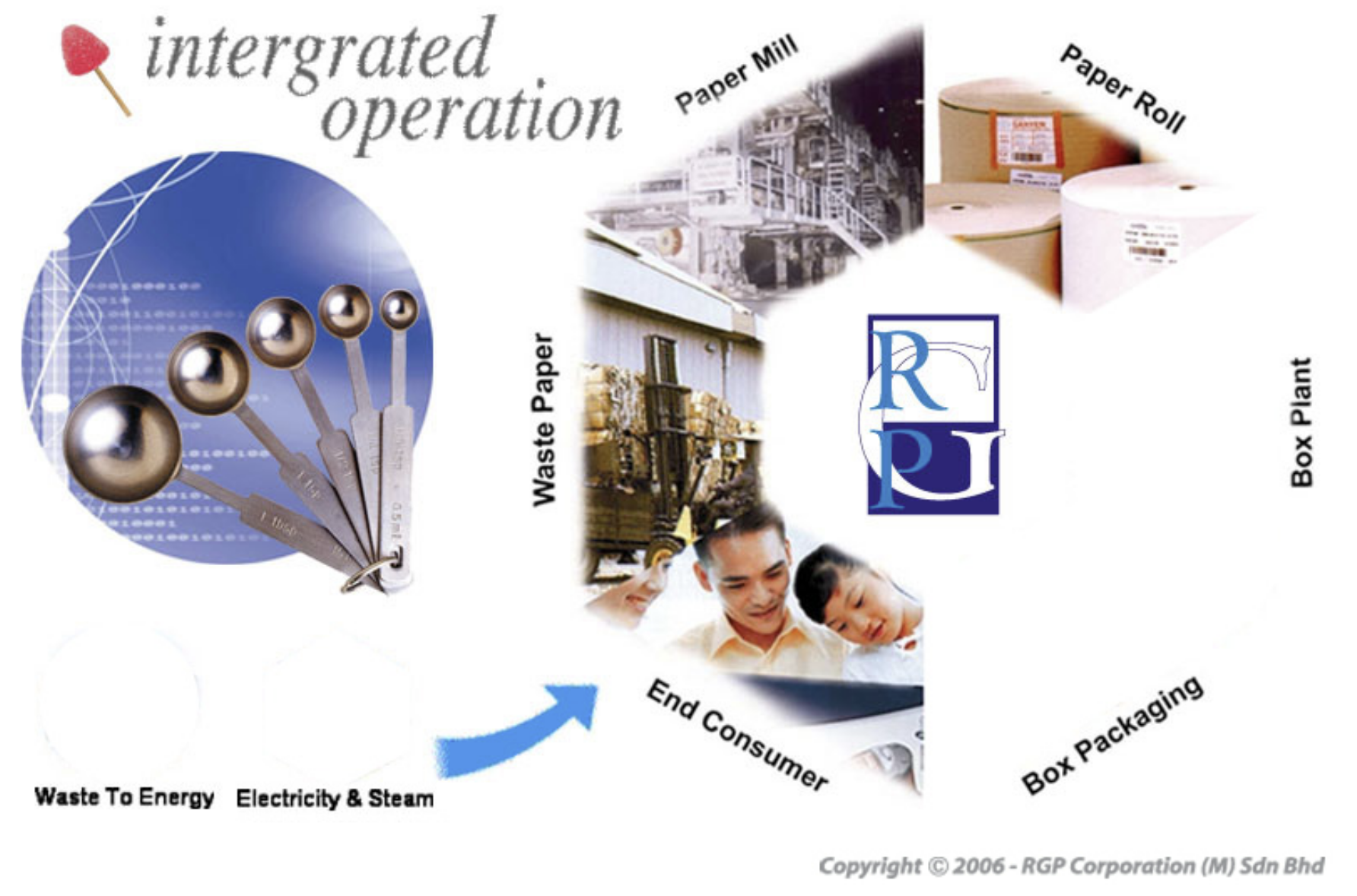 Business Overview
RGP comprises a formidable and experienced team of creative minds and production experts. Together, sharing a combined synergized portfolio of over 40 years of intimate involvement in today's dynamic and competitive business world. In RGP, we adopt the latest coherent operating system from the original design to the last process of gluing. Our printing plants are able to handle the most dedicate and the most complicated printing process.
In order to go deep into every cell of its international market, RGP has set up offices in both Malaysia and China, serving our clients with international ideas but local team.
Through excellent management, its quality and sales turnover is sounded. It continue to grow from strength to strength; its leadership of management looks forward to the future with confidence and optimism and always remaining committed to the printing standard and services.
It is RGP vision to be an excellent packaging manufacturer, producing various packaging materials in the highest quality and being the best business partner for its customers such as Wal-Mart, DHL, Samsung, Wilson, Brother, etc. RGP believes that in order to achieve our company's growth we have to first and foremost achieve our clients' success.
Funding amount
RM 300,000.00 for 6 months.
12.96% interest (nominal, p.a.)
Business type
Manufacturing of packaging materials
Location
NO. 21, JALAN APOLLO U5/194 SEKSYEN U5, BANDAR PINGGIRAN SUBANG 40150 SUBANG JAYA
SELANGOR
Number of outlets
One
Number of directors
Two
Personal guarantees
Two
Year of incorporation
1995
Number of employees
32
Important risk info:
The risk score of B2 ('Medium risk') was determined by a blend of our internal risk-based pricing algorithm, an external risk score from a leading credit rating agency and a variety of qualitative factors. It is an approximation only and does not guarantee any specific outcome. Our risk score ranges from A('lower risk'), B('medium risk'), C('medium-high risk') to D('high risk').
Risk score of B2 ('higher risk') indicates that this investment amount has an elevated-high level of risk. RGP Corporation Sdn Bhd had a revenue of approx. Rm 101 million in 2022 and an after-tax profit of approx. Rm 1.9 million.
This is RGP Corportation (M) Sdn Bhd's 5th P2P funding round with Alixco. RGP Corporation (M) Sdn Bhd still has outstanding scheduled repayments of approx. RM 900,000 over 6 months from ongoing P2P campaigns with Alixco (Total: 4 Active: 4 Finished: 0 ) . Please note that RGP Corporation (M) Sdn Bhd also has several other P2P campaigns which increases the riskiness on this P2P investment note.
Investor Fees.
Alixco charges 1% for investors on total repayments (for 6 months investment notes) only if and when repayment occurs.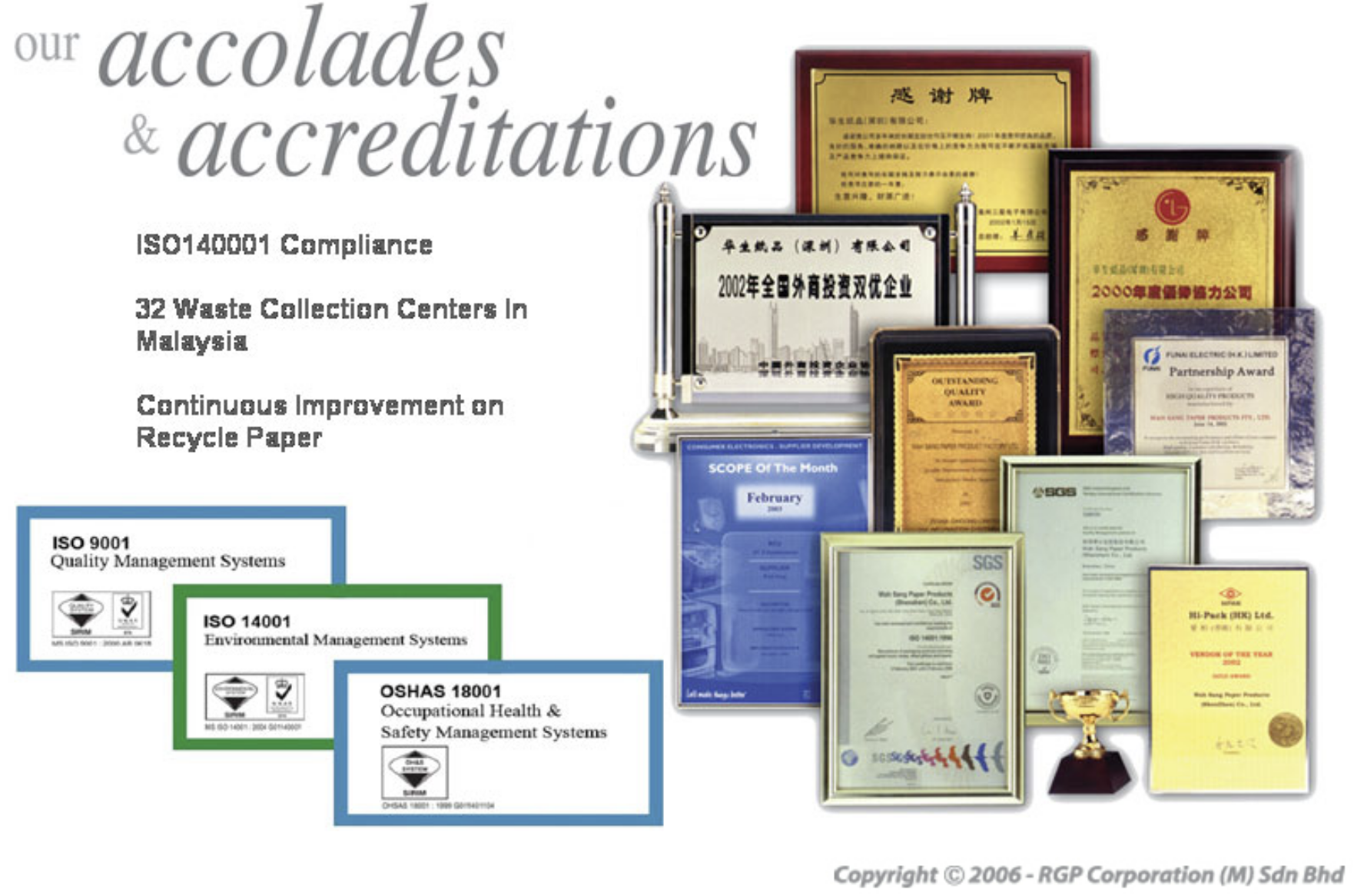 Projects
Today the packaging printing industry is in the technical versatility that never achieved before. The high customer's expectation will be impossible to meet if without the sophisticated printing technology. In RGP, we are totally committed to produce top quality packaging printing results. As such, we work aggressively to improve our machinery and equipment in order to enhance our competitiveness.
Flexo Box Equipments
Paperboard equipments:
Rengo Pack has two corrugated paperboard production lines. They are capable of producing A flute, B flute, C flute and E flute, which can be freely combined to double wall (AB, AC, BC, BE and CE) and triple wall (ACB). The production capacity is 150,000 meters on a daily basis.
Flexo Box Equipments:
• 2 sets of 3-color Taiwan made TCY press with slotting unit
• 1 set of 3-color Taiwan made Flexo presses
• 2 sets of French-made Martin with auto rotary die cutting unit
• 2 sets of 2-color Flexo presses
Production Capacity: 180,000 pieces of Flexo boxes per day
Other equipments:
• 1 set of UK computerized ink blender.
• 32 sets of stiching machines.
• 6 sets of gluing machines
Pre-press Facilities
Designing a Color Adjustment aFilm Outputting aPlate Making


•Offset Box Equipments
Offset Box Equipments
• several sets of German-made KBA
• Production capacity: 160,000 boxes/day
Supplementary Equipments
• 9 sets of offset label sticking machines
• 2 sets of automatic laminators
• 1set of polishing machine
• 1 set of UV varnishing machine
• 1 set of automatic plastic laminator
• 5 sets of manual laminator
• 19 sets of die cutters
• 1 set of automatic die cutter
• 1 set of British-made auto printing-down
frame and P.S plate processor
• 1 set of Flexo automatic printing-down
frame and Flexo processor
Testing Lab
Advanced And Reliable Testing Equipments:
RGP owns a professional testing center with advanced equipment. It enables functions such as testing compression strength, puncture strength, bursting strength, ring crush strength, pin adhesive strength, thickness and etc.
We are also capable of conducting viscosity test of the glue and water ink.

From the development of concept right up to finished artwork, RGP also provide designing services to its valuable clients. Our design emphasize not just creative ideas but more importantly, on creative that sells thus producing the best results for our clients.
Design Studio Equipments:
Macintosh PowerMac G5 x 15 units
Macintosh PowerMac G4 x 30 units
Macintosh PowerMac G3 x 6 units
Macintosh eMac G4 x 5 units
Pentium IV PC Desktop x 6 units
Dell Power Edge SC Server
Fuji FinePix S602 Digital Camera
Umax PowerLook III A4 Scanner (High Resolution)
Epson Perfection 2450 A4 Visual Scanner
Rolan Hi-Fi Jet Pro FJ-500 Large Format Printer
Epson Aculaser C8500 A3 Color Laser Printer
Epson Stylus Color 1160 A3 Inkjet Printer
Epson Aculaser C1100N A4 Color Laser Printer
Epson Stylus C65 A4 Inkjet Printer
Brother HL-1440 Laser Printer
Fujitsu MO Drive DYNA 640FE
i-omega Zip Disk Drive
Yamaha CDRW 8424 (External)
DVD Recorder
All office are equipped with Broadband Internet Network