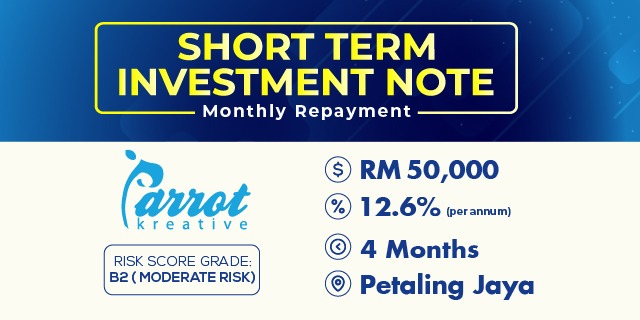 What the business is about?
Parrot Creative Production Sdn Bhd is a video production company that provides video production services such as TVC, commercial & corporate videos, music video production, etc. In 2018, we got into the local movie industry by producing a local Cantonese movie which is scheduled to be release by the beginning of 2020.

Parrot Creativewas founded in 2012, in Taipei. In 2015, we started the company in Malaysia as Parrot Creative (Malaysia) Sdn Bhd. In 2016 (year of incorporation of current company), we started Parrot Creative Production Sdn Bhd with a new partnership.

This investment note is secured by personal guarantees of two directors, as required by ALIXCO P2P Financing.
For what will you use the funds?
Parrot Creative Production Sdn Bhd.
is raising funds for working capital to bridge the period between video production and payment from customers.
Investment Facts
Industry:
Information and Communication