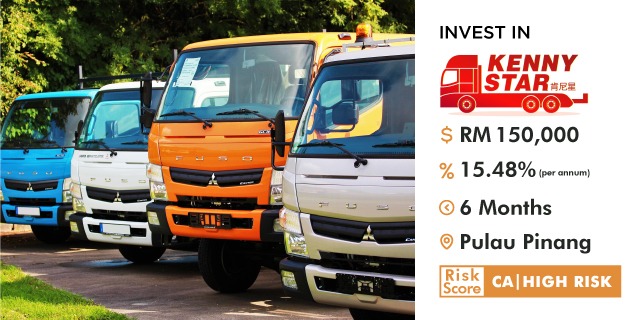 What the business is about?
Kenny Star Auto Trading sells used lorries at an inexpensive price point to a wide variety of customers. "In Penang, the market for used lorries priced below 20k is scarce, yet we have positioned ourselves as one of the only companies offering such vehicles. Furthermore, our company offers high quality services in securing sales for our clients' lorries. With a consistent track record of facilitating between 5 to 8 transactions per month, we are able to generate consistent revenue. It is important to note that the lorry and van industry is a fundamental component of logistics and commerce, ensuring that our market remains viable now and in the future."
This is Kenny Star Auto Trading's 1st financing round with Alixco P2P Financing.
This investment note is secured by two personal guarantees, as required by ALIXCO P2P Financing.
For what will you use the funds?
The funds will be used for working capital .
Business Overview
Kenny Star Auto Trading
Funding amount
RM 150,000.00 for 6 months.
15,48 % interest (nominal, p.a.)
Business type
Auto Trading
Location
LOT 10421 MUKIM 12 JALAN PERMATANG DAMAR LAUT, 11900, BATU MAUNG, PULAU PINANG.
Number of outlets
One
Number of directors
One
Personal guarantees
Two
Year of incorporation
2018
Number of employees
Four
Important risk info:
The risk score of CA ('High risk') was determined by a blend of our internal risk-based pricing algorithm, an external risk score from a leading credit rating agency and a variety of qualitative factors. It is an approximation only and does not guarantee any specific outcome. Our risk score ranges from A('lower risk'), B('medium risk'), C('medium-high risk') to D('high risk').
Risk score of CA ('higher risk') indicates that this investment amount has an elevated-high level of risk. Please note that the small-scale nature of the business as well as the fluctuations and competition in the used lorry market increase the riskiness of this investment note.
Investor Fees.
Alixco charges 1% for investors on total repayments (for 6 months investment notes) only if and when repayment occurs. and to purchase goods.