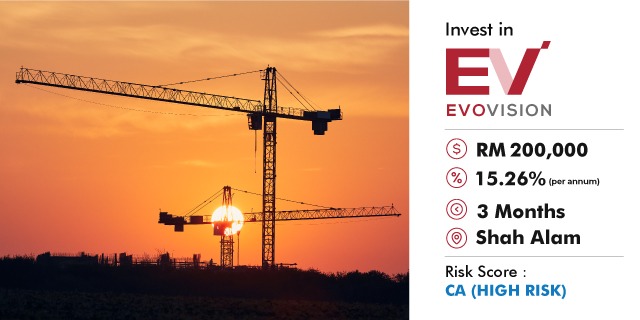 What the business is about?
Evo Vision Sdn Bhd is a mechanical engineering contractor, primarily focused on cold water and sanitary plumbing. The business was founded in 2015.
Evo Vision Sdn Bhd is focused on providing contracting services for condominiums, hotels, offices, shopping malls, hospitals, KTMB double track and other mix developments. In the early stage, Evo Vision Sdn Bhd started with a 149 units double story terrace house in Putrajaya. Currently Evo Vision Sdn Bhd is working on a Johor KTMB double track job under YTL and a Kemaman 300 bed hospital job under JKR. Evo Vision Sdn Bhd holds a plumber license and CIDB certificate.

This is Evo Vision Sdn. Bhd.'s 1st financing round with Alixco P2P Financing.

This investment note is secured by two personal guarantees, as required by ALIXCO P2P Financing.

For what will you use the funds?
The funds will be used for working capital.
'We would like to expand more intensively towards government jobs. We aim to be top plumbing contractor for the government. Our target customers include Mindeff, JKR, IGB, and other solid clients.'
'As a contractor we need capital for around 4 months at the start of each project. We need about 2 weeks to mobilize the work, for materials to reach the site and one month to install the materials and submit claims. After submitting claims, specialist consultants will go to the site for certification. Only then can we issue an invoice and wait for payment. We would like to expand more to government jobs which require an experienced contractor profile. This will allow for higher profit margins for us due to stricter requirements and therefore less competition.'