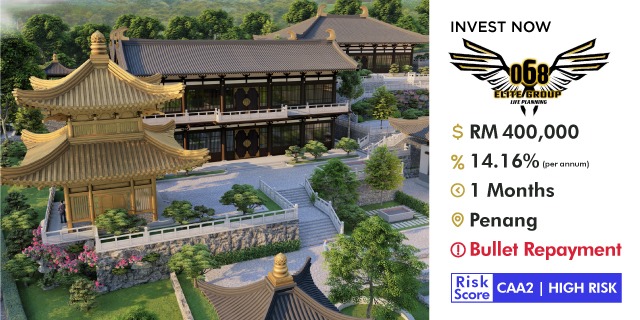 What is the business about?
068 Elite Group Sdn Bhd is an agency that specializes in offering legacy investments and legacy investment related products. 'Through social media platforms like Facebook and offline introductions, we have successfully recruited over 100 agents to promote our products. In 2022, we were able to generate sales worth RM 18 million, and we are targeting sales revenue of RM 22 million for 2023.'
This is 068 Elite Group Sdn Bhd's 1st investment note with ALIXCO P2P Financing.
This investment note is secured by two personal guarantee, as required by ALIXCO P2P Financing.
For what will you use the funds?
The funds will be used for working capital.
Business Overview
068 Elite Group Sdn Bhd in offering legacy investments and related products.
"Our target audience is young individuals who wish to pre-plan for themselves or their elderly family members. Additionally, we cater to elderly individuals who wish to plan for themselves. Our target age range is between 25 to 75 years old."
Funding amount
RM 400,000.00 for 1month.
14.16 % interest (nominal, p.a.)

Business type
Legacy investment, funeral services

Location
351-1, JALAN C.Y.CHOY 10300 GEORGE TOWN PULAU PINANG

Number of outlets
One

Number of directors
Two

Personal guarantees
Two

Year of incorporation
2021

Number of employees
129
Important risk information:

The risk score of CAA2 ('High risk') was determined by a blend of our internal risk-based pricing algorithm, an external risk score from a leading credit rating agency and a variety of qualitative factors. It is an approximation only and does not guarantee any specific outcome. Our risk score ranges from A('lower risk'), B('medium risk'), C('medium-high risk') to D('high risk').
Risk score of CAA2 ('High risk') indicates that this investment amount has a high level of risk.
Investor Fees:
Alixco charges investors 0.15% on total repayments (for 1 month investment notes) only if and when repayment occurs.