Cheap2Shop
Cheap2Shop Sdn Bhd is selling over 10,000 household items across 15 stores. Investment Note: three personal guarantees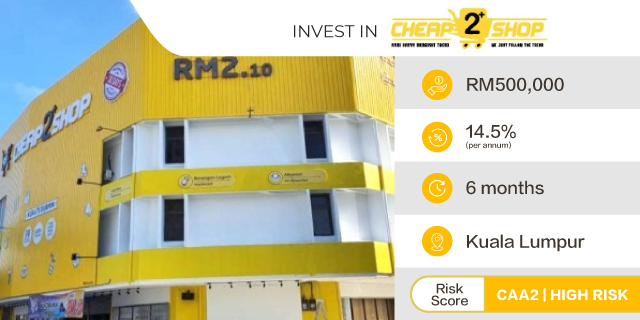 What the business is about?
Cheap2Shop Sdn Bhd sells over 10,000 household goods as a RM2+ concept retailer across its 15 shops within Klang Valley, Penang, Kedah, Perak, Melaka and Selangor. In 2021, Cheap2Shop Sdn Bhd has a revenue of approx. RM 24 million and a pre-tax profit of approx. RM 500,000.
This is the 18th financing round of Cheap2Shop Sdn Bhd with Alixco P2P.
This investment note is secured by three personal guarantees and one corporate guarantee, as required by ALIXCO P2P Financing.

For what will you use the funds?
The funds will be used for working capital and to open new stores.
Business Overview
Cheap2Shop currently operates 14 shops within Klang Valley, Penang, Kedah, Perak, Melaka and Selangor.
'As a result of market demand, SWC Enterprise Sdn. Bhd. established the Cheap2shop chain in 2018, specializing in groceries and daily necessities. Cheap2shop is a RM2plus concept retailer. It is an additional business model created by SWC Enterprise Sdn. Bhd. for increasing the company's growth. With the growth of Cheap2shop (2018: 3 outlets, 2019: 3 outlets, 2020: 5 outlets) SWC Enterprise Sdn. Bhd. incorporated Cheap2shop Sdn. Bhd. and converted the business into a new entity. During the year (2021): Cheap2shop Sdn. Bhd. successfully opened 3 new outlets even though the market was facing Covid-19 challenges. Currently cheap2shop operates 14 outlets located at Penang, Kedah, Perak, Selangor, KL and Melaka. In 2022, Cheap2shop plans to open another 4 new outlets at Kundang, Bandar Tun Razak, Muar and Yong Peng.' (Cheap2Shop)
Cheap2Shop's target market is medium-lower income surrounding its strategically positioned outlets. Products sold include household good (toys, baby's products, F&B, kitchen utensil, gardening, plasticware), items for school use (stationery and books), for office use (office equipment such as staple, puncher, calculator, fastener) or for factory use (face mask). Customers choose Cheap2Shop Sdn Bhd for its variety of products at a low price, which includes local and imported goods. 2
Funding amount
RM 500,000.00 for 6 months.
14,5 % interest (nominal, p.a.)

Business type
Sale of household goods and products (consumer staples)

Location
LOT 1315 JALAN SUNGAI BAKAU 48000 RAWANG SELANGOR

Number of outlets
15

Number of directors
Two

Personal guarantees
Three

Year of incorporation
2020

Number of employees
125



Important risk:


The risk score of CAA3 ('High risk') was determined by a blend of our internal risk-based pricing algorithm, an external risk score from a leading credit rating agency and a variety of qualitative factors. It is an approximation only and does not guarantee any specific outcome. Our risk score ranges from A('lower risk'), B('medium risk'), C('medium-high risk') to D('high risk').

Risk score of CAA3 ('higher risk') indicates that this investment amount has an elevated-high level of risk. Cheap2Shop Sdn Bhd's business is marked by thin margins and fluctuating revenues and income.
In 2021, Cheap2Shop had a revenue of approx. RM 24 million and a pre-tax profit of approx. RM 500,000.


Alixco Disclaimer about Cheap2Shop Sdn Bhd:
Cheap2Shop's majority shareholder is SWC Enterprise Sdn Bhd, a company which has previously raised money (approximately RM 3 million) to scale up business operations via an ECF crowdfunding round with FBM Crowdtech Sdn Bhd (of which Alixco is also a part) on FundedByMe. SWC Enterprise and its associated companies SWC Properties Sdn Bhd and De Dyno Enterprise Sdn Bhd have previously raised over 30 P2P financing rounds with Alixco P2P, with ongoing P2P campaigns having a remaining outstanding amount of approximately RM 7 million.
Cheap2Shop has previously raised 27 P2P financing rounds (Total: 27 Active: 1 Finished: 26 ) on Alixco P2P with all payments on time to date, with an scheduled upcoming repayments of approx. RM 500,000.
The high outstanding financing amount across different companies with the same / similar majority shareholder significantly increases the risk of these P2P financings and the risk of loss of the invested capital.


Investor Fees
Alixco charges 1% on total repayments (for 6 months investment notes) for investors on repayments only if repayment occurs.